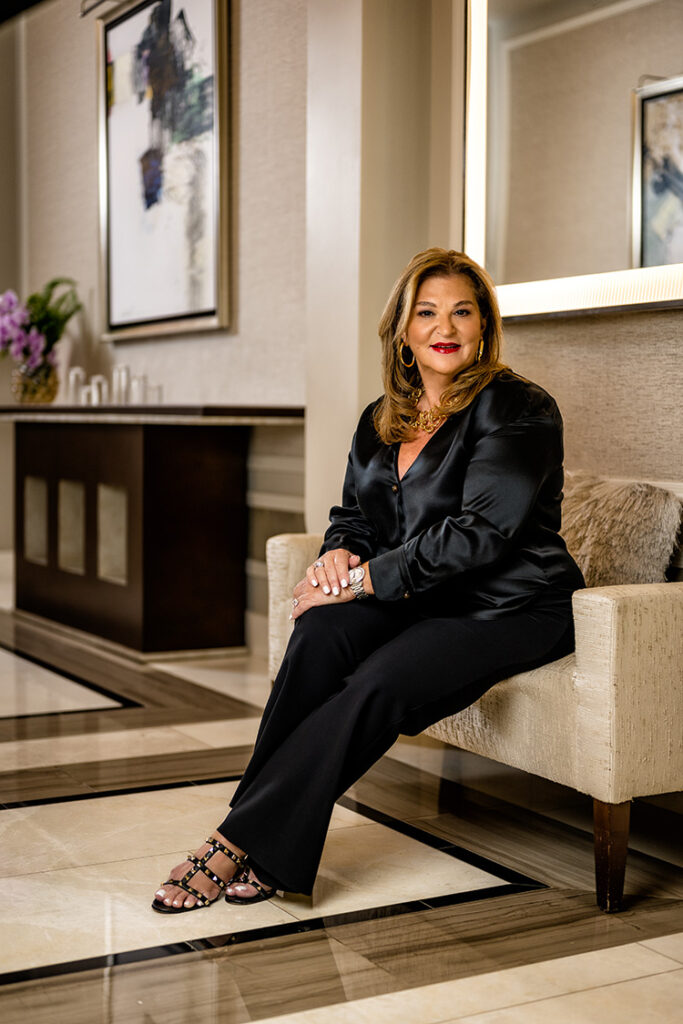 A tour de force, Tina Harari brings a world of experience to her designs. Originally from Istanbul, Turkey, she lives and works between Miami, Montreal, and Toronto.
Her deep appreciation and love of design stems from her initial encounters with her home city of Istanbul. The exotic blend of European and Asian cultures coming together sparked an innate love of all things beautiful. From the deep blues of the Bosphorus to walking the grand palaces and visiting flea markets with their eye-catching gold, jewelry and tapestries, these experiences and surroundings made a lasting impression on Tina's future design sensibilities.
Tina began her career in the fashion industry working for the French design house, Ted Lapidus. Working with sumptuous fabrics and textiles, she dressed some of Montreal's socialite. Establishing her sense of aesthetics, Tina developed her color skills and learned how to pair fabrics, balancing pattern, texture, and color.
Later in her career, she transitioned into the corporate travel industry, where she owned her own travel agency and became an American Express travel partner. Tina was able to visit and tour some of the most enchanting and exotic cities in the world. Discovering and staying at fascinating luxury properties, she was immediately immersed into a privileged world of interiors.

As hotels were always beautifully appointed with the latest designs, Tina recalls entering these beautiful surroundings in France, Spain, England, Austria, and Japan and searching for the smallest detail. She somehow knew exactly how the design came together. When visiting the U.S., she was impressed by how cultures came together in one continent. The California dream, the pace of New York, the beautiful beaches of Florida and of course, the Magic City that is Miami as it dynamically transforms at night with its unique skyline and architectural design. This begins her journey into interior design.
Tina decides to embark her studies in interior design and builds long standing relationships within the design community. Combining design courses with the experiences curated throughout her life was all coming together in beauty. For Tina, there is magic in design. She has a gift of seeing different elements, angles, colors, and the ability to bring them together to create the ultimate beauty – designs that resonate.
With design projects in Miami, Montreal, and Toronto, she took apprentice jobs with some of the top interior designers, applying her own unique style along the way. Today, Tina's interior spaces showcase a worldly aesthetic, a sophisticated elegance. Her spaces reflect her client's desires while maintaining an inviting and timeless appeal. Tina believes the ultimate comfort and beauty is created to suit one's need. The challenge of making spaces functional is part of that creation.

When she is not designing for her clients, Tina is a collector of books that she has gathered from her trips around the world. She is fascinated by florals and their uplifting nature, always keeping a fresh bouquet on her desk for inspiration.